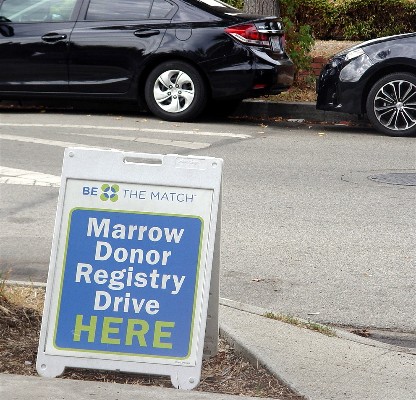 For a number of years now One Human Community held free clothing and free toys giveaways before Christmas. This year, Avo and the guys of One Human Community teamed up with the staff of Anything L.A. Magazine and Be The Match® (National Marrow Donor Program®) to save a life. Together, we organized Bone Marrow Drive for Adam Krief.
The cause was important. Did you know that there is a cure for some types of blood cancer? Did you know that the cure – in some cases, not all – is as little as stem cells extracted from a donor's blood?! We didn't. (The compatibility test involves a swab of inside cheek: just saliva! The life-saving act involves a little more than a blood donation.)
We were moved to action by the plight of a young man, Los Angeles husband and father of three small children (Adam Krief) who was diagnosed with a rare and terminal type of blood cancer following a persistent… leg pain! His health was declining fast and finding a matching donor was then – an unfortunately, remains – a priority.
The words "One Human Community" have many meanings. We became involved with Adam's cause for two reasons:
No one should be allowed to die due to the lack of a substance we all have enough of to spare.
We all believe in environmental preservation today. One of its corner stones is using renewable resources, human blood is a renewable resource.
We are One Human Community caring for and about one another. Pain, illness, hunger or poverty feels exactly the same to anyone. Our mission is to relieve and prevent human suffering. This time, we felt that trying to save one person's life was of utmost importance. In 2017 our undivided attention will go to books and technology that facilitates learning.