Everything good in life starts with books and reading!
Reading books leads to good education.
Reading good books inspires.
Reading books makes us wiser.
Reading books makes for a richer life.
Reading books helps fight loneliness.
Discussing the books creates social opportunities.
All the successful people we admire from afar are readers. All the residents of affluent neighborhoods are readers. Most of the popular and fulfilled people read books. Readers – people who have the habit of reading and access to books – are not only interesting but happier.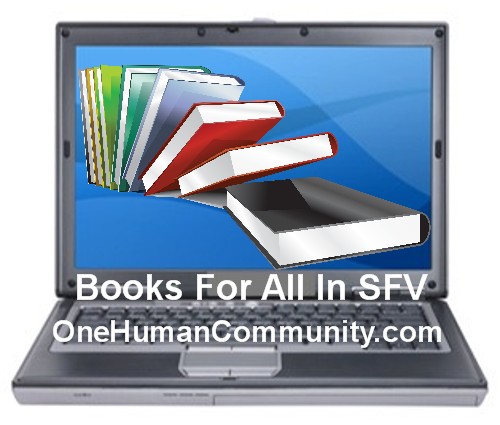 Knowledge, inspiration and entertainment come from books. Making books free, available and easily accessible can change lives.
The mission of One Human Community is to fight and prevent poverty. There is no "weapon" more effective in preventing poverty than education, and the drive to learn starts with the habit of reading. There is no "tool" more effective in building a strong and well-integrated community than reading.
One Human Community is starting Books For All in SFV to improve books' availability / accessibility and to encourage reading across generations.
One Human Community's program Books For All in SFV will include:
Recommended reading lists for children and youth
How to use Public Library Online workshop
Free Books Online
Books in print
Books on CD
Audio Books
Inquiries from readers who have no computers / or don't know how to use them are welcome.
Reading materials provided (and / or made accessible) upon request and free of charge.
A Book Club for avid readers will be established.
One Human Community is an informal association that works to the benefit of the community providing goods, services and resources free of charge to those in need. We are calling on the community and local business for support. Making Books For All the success it deserves to be will involve numerous expenses from equipment and transportation costs to supplies. Your help will be greatly appreciated and rewarded with valuable free publicity.
If you, your child or someone you know would like to sign up for Books For All In SFV, contact One Human Community. (Participation is FREE. Schedule and other details will be provided by email.)
If you – or your company – would like to lend your support to One Human Community's Books For All in SFV, click here.